"CleanRite Holds Cancer Awareness Raffle"
Walkerton, October 1 – To promote cancer awareness and prevention, CleanRite Cleaning Services (www.cleanritecleaning.com) is holding a raffle. During the month of October, CleanRite employees will be wearing pink uniforms and pink gloves. Anyone who sends in a photo of any member of the CleanRite crew in a pink uniform out in the community will be included in the raffle.
To enter, simply text a picture with your phone to 574/274-2424, email it to
Verhaeghe@galaxyinternet.net
, or mail it to P.O. Box 65, Walkerton, IN 46574 during the month of October. CleanRite will be distributing ten $30.00 coupons good toward any cleaning. Coupons may be used for fall cleaning jobs, such as window washing, wall washing, inside appliance cleanings, or regular initial house cleanings.
CleanRite Cleaning Services, voted the #1 cleaning service in Marshall County, offers both commercial and residential cleaning within a sixty-mile radius of the Walkerton area, and welcomes photo submissions for the raffle from Oct. 1st to Oct. 31st.
2014 Most Deserving Parent Contest Winner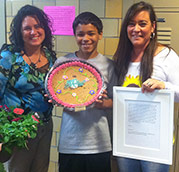 Walkerton - CleanRite Cleaning Services, Inc. is pleased to announce that Misty Nies is the winner of the CleanRite Cleaning Services, Inc.'s 2014 Most Deserving Parent Contest, held each year in conjunction with Mother's Day and Father's Day. Misty's son, Arizona Nies, wrote an essay for his "loving and caring mom, who adopted him forever."
Arizona, a sixth-grade student at Bremen Middle School, wrote his poignant essay, speaking of his former life with a mom who was a drug addict and a dad who left when he was born. Arizona was told that as a "last resort" his new mom and family would take him in. For Arizona, the foster children who live with his family, and the children his mother babysits each day, the Nies home is a safe haven – albeit a busy one. It's clear from Arizona's essay that his mom has a lot of love in her heart to give, and CleanRite is happy to professionally clean her house so that she can enjoy her favorite time of day, family time, with her loved ones.
Arizona's entry was one of 141 entries from schools in North Liberty, Walkerton, Bremen, and Niles, judged by 11 CleanRite employees. Misty Nies's grand prize will include dusting, vacuuming, mopping, polishing furniture and cabinets, cleaning ceiling fans/fixtures, and more. The other entrants will receive consolation prizes – gift certificates worth $25 toward an initial house cleaning – for their essays..
Pictured above, left to right: Dawn Gorby-Verhaeghe (Owner of CleanRite) Arizona Nies (Winner - Student), Misty Nies (Mother)
for winning entry and picture, click here
We take great pride in winning the "Best of Marshall County" contest and look forward to working with everyone who voted for us in the next year.


THANK YOU, EVERYONE,
who voted for CleanRite Cleaning Services, Inc.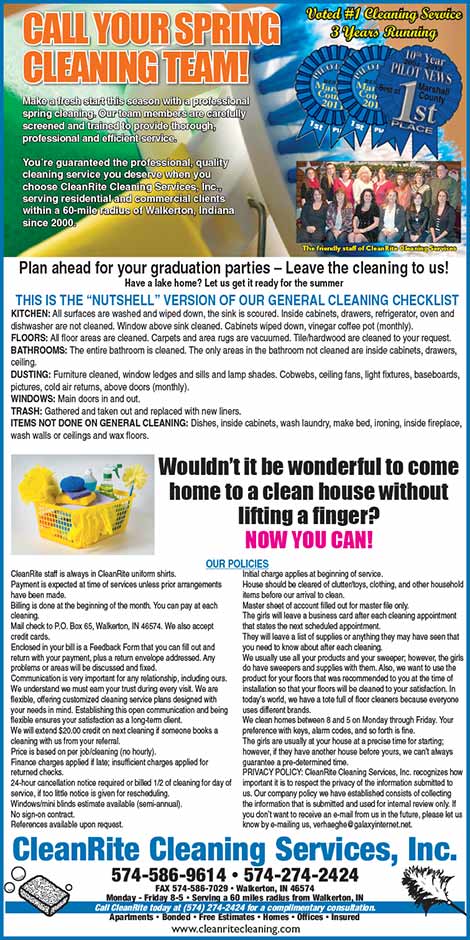 "A Clean House for a Sweetheart" 2014 Poetry Contest Winner

Kaylyn,
Senior at John Glenn High


Judges
Matchless Love
By: Kaylyn Fannon
Your love for me is matchless.
I see it each day in all that you do,
And I know you'll always love me
Because a mother's love is true.
I hope you know I love you, Mom;
You work so hard and rest so little.
Let me know if you need a hug,
Space, aspirin; we'll meet in the middle.
I know, sometimes I only add to the stress,
Yet you never tell me so.
You always leave it up to guess,
And I rarely ever know.
It's okay to stop and take a breath,
Or else you might work yourself to death.
For you loving me is a pure joy,
Even when I'm angry and annoyed.
Thank you for that; you're truly my hero,
And when your days clock down to zero,
I'll miss you more than you will ever know.
As my own children begin to grow,
I will love them just as you loved me,
So what I saw, they, too, will see,
To be a mother just like you,
In everything I say and do.
With my love I will make it clear,
You're forever in my heart, Mother dear.

for more pictures, click here


About CleanRite Cleaning Services, Inc.
CleanRite owner is Dawn M. Gorby-Verhaeghe, whose home office is in Walkerton, Indiana. After graduating from John Glenn High School, Dawn went on to graduate from Ferris State University with a Bachelor's Degree in Business in 1996. She also holds an Associate's Degree from Southwestern Michigan College (1991) and a Management Degree from Ivy Tech College (1991).
Dawn waitressed and cleaned homes throughout college, fitting her work responsibilities around her school schedule. From an early age, she learned from her family the importance of a clean house. While she was growing up, her home was always cleaned weekly and spring cleaning was an annual event during Spring Break.
In 2000, Dawn started CleanRite Cleaning Services, not only to run a successful business from her home and stay home with her children, but also to help others enjoy a clean home or business. She now has 16 dynamic employees.
In 2007, CleanRite Cleaning Services serviced 30 residential accounts as well as 15 weekly commercial accounts. This number does not include many one-day jobs; apartment cleaning; initial cleaning for new homes, remodeled residences, and fire restoration jobs; job site cleanup; and window cleaning.
In 2008, CleanRite Cleaning Service serviced over 80 residential accounts and 18 commercial accounts.
In 2010, CleanRite serviced 75 Residential Accounts and 24 Commercial Accounts.
In 2011, CleanRite serviced 128 Residential Accounts and 23 Commercial Accounts.
In 2012, CleanRite serviced 147 Residential Accounts and 23 Commercial Accounts.
In 2013, CleanRite serviced 107 Residential Accounts and 27 Commercial Accounts.
At CleanRite, our mission is to help you set up a cleaning program in your home/office that will benefit you and your family/business. Your satisfaction is our #1 concern.
My Family: Seth, Hunter, Jason, Haley, Dawn and Taylor
You're guaranteed the professional, quality cleaning service you deserve when you choose CleanRite Cleaning Services, Inc.
, serving residential and commercial clients within a 60-mile radius of Walkerton, Indiana since 2000.
You'll never miss a cleaning, because we have sixteen team members ready to serve you. And because we send the same person (or team, for larger accounts) every time, you'll have the personalized attention that's so important.
THIS IS THE "NUTSHELL" VERSION
OF OUR GENERAL CLEANING CHECKLIST
KITCHEN:
All surfaces are washed and wiped down, the sink is scoured. Inside cabinets, drawers, refrigerator, oven and dishwasher are not cleaned. Window above sink cleaned. Cabinets wiped down, vinegar coffee pot (monthly).
FLOORS:
All floor areas are cleaned. Carpets and area rugs are vacuumed. Tile/hardwood are cleaned to your request.
BATHROOMS:
The entire bathroom is cleaned. The only areas in the bathroom not cleaned are inside cabinets, drawers, ceiling.
DUSTING:
Furniture cleaned, window ledges and sills and lamp shades. Cobwebs, ceiling fans, light fixtures, baseboards, pictures, cold air returns, above doors (monthly).
WINDOWS:
Main doors in and out.
TRASH:
Gathered and taken out and replaced with new liners.
ITEMS NOT DONE ON GENERAL CLEANING:
Dishes, inside cabinets, wash laundry, make bed, ironing, inside fireplace, wash walls or ceilings and wax floors.
Call CleanRite today at (574) 274-2424 for a complimentary consultation.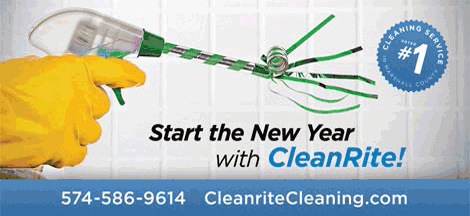 CleanRIte Cleaning Services, Inc. has been selected as one of the
Top 7 cleaning companies in the state of Indiana
www.top7cleaning.com
CleanRite Cleaning Services can be your best friend, too!








LOCAL PARADES
Lakeville, North Liberty, Walkerton

Walkerton Fall-O-Ween


Year's Best Gift
GIFT CERTIFICATES

Looking for this year's best gift?

Give a CleanRite gift certificate and treat your friend or family member to a freshly cleaned home! Our gift certificates are perfect for Birthdays, Anniversaries, Holidays, New Babies, Retirement, House Selling, House Warming, or Job Changes.

What a great gift for a family member who has everything but would love a year's worth of monthly cleaning services!

Contact Dawn to discuss our services and your gift budget.

CleanRite 2014
NLYL Minor League Baseball Team
Looking Good Guys!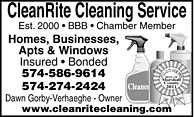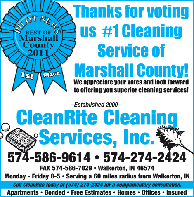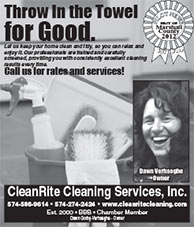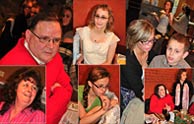 Christmas 2010 pictures
BUSINESS ASSOCIATIONS